On Hoteling Stations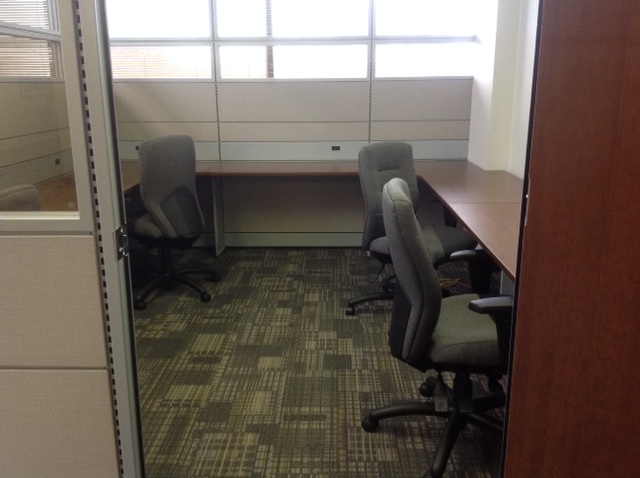 No matter what you call it, touchdown space or hoteling or something else, there is a need for our commercial clients to have spaces for their working visitors. To understand what this space needs to be you first have to understand this end-user: This new kind of migrant worker is usually a technology savvy, traveling sort probably with a full day's dockett of meetings, but still may need a space to pound out a report before heading home. What kind of space do you offer that staff member, who usually works at another site (or in the case of visiting consultants, works everywhere) and is in town for a few days at most? They need a space that allows them to function and have all the technological capabilities of their usual space, some potential privacy for sensitive phone calls, but on the flip side, perhaps not as much elbow room as they would get were this their usual space and certainly nothing to encourage their permanent setting up shop.
These dedicated "hoteling" spaces are a great idea for companies that want to keep productivity for their staff high during their spell on the road, but they still need different functionality than their stationary counterparts. What we generally suggest is the following: First, no storage needs. Whatever the worker brings with them is leaving with them, so you definitely can cut down space right here with less or no storage. A place to secure a coat or a purse is a good addition, but often not a necessity. Power for that day's laptop (in most cases I've experienced is it fair to assume your migrant has this rather than not, although that is probably debatable in other cases) and data access is a must. Phone, much like a secure spot for a coat, is probably in the "nice to have" pile, since likely this kind of worker is carrying a cell phone.
So what does this space look like? On one end, it may look very similar to your normal workspace, just un-personalized and pared-down. One extra workstation or office set aside is, for many companies, not that much to ask in a field of cubicles. It could be well worth the investment. Pictured above is a recent oversized cubicle that our company designed for a client who wanted to provide hoteling for visiting staff. It's a simple solution, but very effective.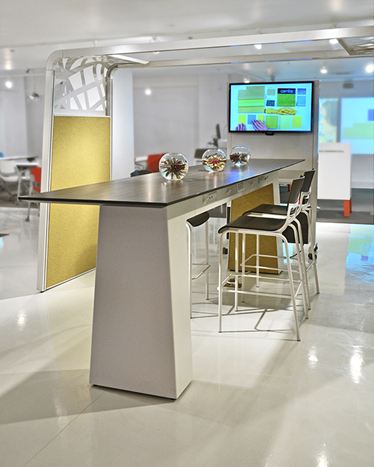 Or, if you want to get jazzy, a benching style solution in a semi-public space with good acoustic control might be a viable solution, especially if every cube is occupied and space is at a premium. When workspace is this flexible there are limitless opportunities to do something out of the box. All that is a hard-and -fast rule is enough space to settle in with a worksurface, chair, power and data.
Many furniture manufacturers have developed fun, funky solutions that carry power and data to address a less orthodox answer to this and other questions of our changing workspace. Check out the one pictured on the right from Izzy+, the Nemo Trellis and Bar. The Bar provides power and data up the the counter height work area, a great height if you really won't be in place long, and the Trellis canopy provides a sense of some privacy without giving up an office, conference room or cubicle to do it.